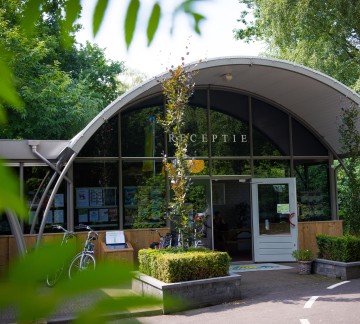 Reception
At the reception you can check in-/out, find all the information about the recreation program, bike trails, off-site and much more! We'll be the best possible service.
Visitors information
Do you have lodgers, then they pay subsistence á € 5.00 - P.N. Visitors park their cars along the way.
Do you have day visitors, they only pay if they want to make use of the pool € 7.50 p.p.p.d. (Not open to visitors at peak periods).
Access
From 07:00 to 23:00 hours you can drive through the barrier. If you leave before 7:00 pm, then park your care outside the barrier on the road. For emergencies you can always drive out.
If you have questions, we are always accessible at +3155-5051359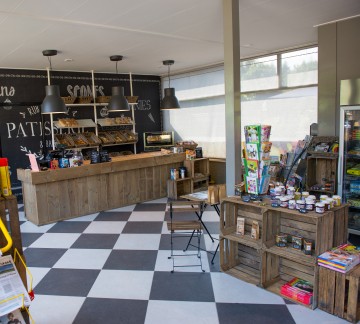 Shop

In our cozy shop you can go every day for fresh bread. We also offer a limited range of vegetables, meat and dairy products to. For your "forget grocery" such as toilet paper, chips and peanut butter, you are as well welcome. Of course we also have a new newspaper waiting for you every day.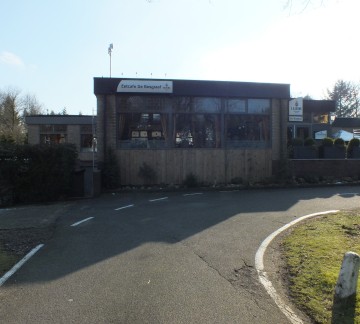 Eetcafé the Bosgraaf

Eetcafé the Bosgraaf is centrally located on our family campsite. Our host Marcel will do everything to please you and your guests. So you can come here for a nice cup of tea and delicious treats. Lunch, drinks or dinner, everything is very tasteful and with great care preparing for you. The cafe also offers a variety of takeaway food. A complete snack and delicious pizzas you can bring to your tent or caravan. Throughout the season, various activities are organized as weekly bingo, music and special diner evening. These are widely communicated in the recreation program. For more information, visit http://www.eetcafedebosgraaf.com/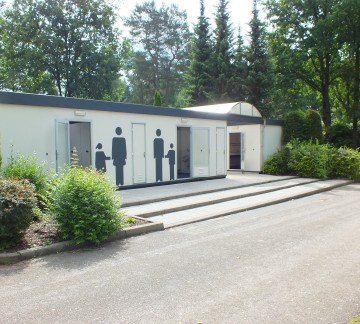 Sanitary

This is one of our main toilet blocks. In the central toilet blocks you can use the toilets, showers (free), washing place, chemical toilet room and a baby washroom.


Private sanitary cabin
Speaking of comfort: Camping at The Bosgraaf adventure with the comforts of home. A hundred sites are equipped with their own private sanitary cabin. Ideal if you put privacy and personal care at cost. You have your own sink, toilet and cabin A even a private shower. Most places are cozy fields with its own playground, the place with a booth B are separated by a green hedge. You step right out of the tent or caravan under a steaming shower: the luxury of Comfort +.

Cabin A: shower, toilet and sink with hot water (geyser)
Cabin B: toilet and sink with hot water (boiler)
Cabine C: toilet and sink with cold water

laundromat
In our laundry room are three washers and two dryers. You can pick up at the reception tokens for the washing machines and dryers. A coin for the washing machine costs € 5.00 and € 2.00 for the dryer. Washing powder / detergent is not necessary: ​​the washing machines have an automatic dosing system.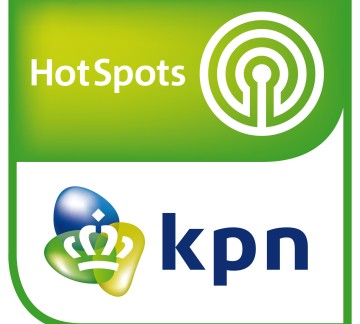 Wi-Fi

From the new season in 2017, we use KPN Hotspot. This means that anyone can use for free with a KPN subscription of the wifi. All guests who have no KPN subscription can buy a wifi code from reception.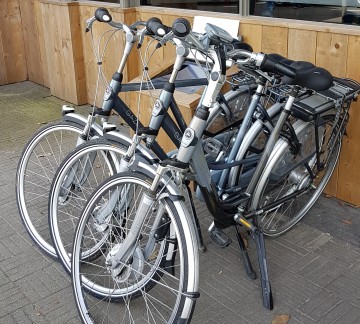 We rent various types of bicycles as:
Men's bicycles with gears 7
Ladies bicycles with gears 7
Children's bicycles
Electric bicycles
Tandem
Child seat front / rear
For prices and availability, please contact the reception.
At the reception we have as well various cycling and walking routes. These are to take. Are you looking for a route that is not there is, ask our receptionist.