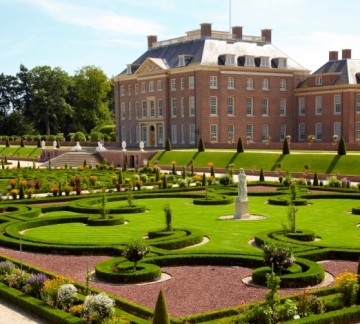 The museum and its collection.
In the museum you'll discover the world of the House of Orange-Nassau during the last centuries. The main building of the palace, 'Corps de Logis' , is the starting point of this journey through time.
'Palace Het Loo' provides both a collection owned by the museum and a loan exhibition, among others by: The Royal Collections, the Geschiedkundige Vereniging Oranje-Nassau, the Stichting tot Instandhouding van het Museum van de Kanselarij der Nederlandse Orden and some private loans.
Quite a lot of assets have been made possible by the 'Stichting 't Konings Loo, the 'Vereniging Rembrandt' and private donations.
The collection numbers approximately 160.000 items and consists of several parts of collections: paintings, sculptures, furniture, crafts, textiles and costumes, drawings, images and photos, orders and decorations, books and carriages. Besides that 'Palace Het Loo' maintains part of the National Plant collection.
For more information, entry fees and opening hours look at https://www.paleishetloo.nl/en/#2017-06-01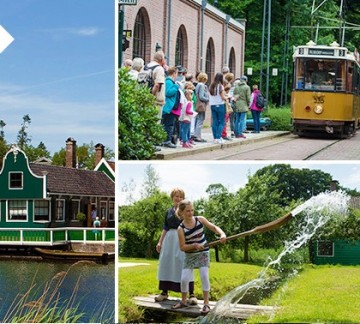 In the Dutch Open Air museum Dutch history comes to life from all its angles. Young and old will experience an unforgettable day in the extensive museum park. Taste the past, have a talk with craftsmen and step into Dutch livingrooms through the centuries. Smell the tarring at the shipyard or the smell of yeast in the beer brewery. Enjoy a complete day out stimulating all your senses and experience how the four seasons make each visit a different and unique experience!
Look for more information, entry fees and opening hours at www.openairmuseum.nl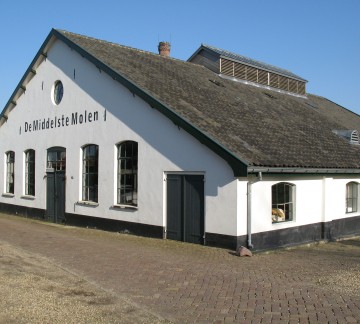 The 'Middelste Molen' can be visited by individual visitors and by groups. A wonderful step back in time. Should you visit the mill on a day the miller actually works the mill, it will be a unique experience. You'll imagine yourself in the 19th Century when you stand between rattling and colliding machines and follow the process of primal Dutch paper. During the educational and unique introduction to the 'Middelste Molen' you do not only follow the industrial paper production but also the hand made paper one with or without the watermark which is still made here. A product artists, nationally and internationally value highly.
Look for more information, opening hours and entry fees at https://www.demiddelstemolen.nl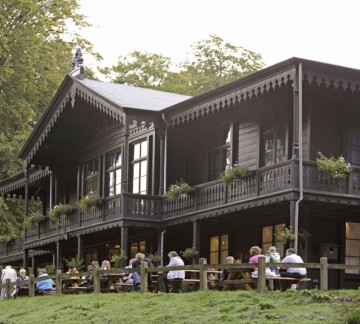 What can be more exciting than walking through the rough forest and find enormous antlers of a herd of impressive red deer? What is more exciting than the rough fur and tusks of a huge wild boar looking you staight into your eyes? Here you can stand eye to eye with a big red deer or the naughty wild boar. Here birds of prey fly over your head silently and the falcon will look straight through you with its sharp look. Here you experience, and feel nature and game. Here you can take beautiful pictures of flora and fauna, for behind every tree new surprisesare hidden you wouldn't want to miss. At 'Aardhuis' you'll discover all these exciting and marvellous impressions in the tough world of game.
Come and experience and feel at 'Aardhuis'!
For more information, entry fees and opening hours look at http://www.aardhuis.nl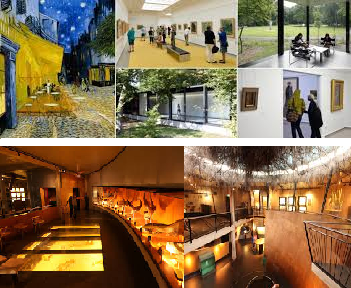 Kröller-Müller Museum
In 'Kröller-Müller Museum' all beauty joins together. The unique combination of art, nature and architecture guarantees an exceptional experience. An experience stimulating all senses. The museum is like paradise both to experienced art lovers and unprejudiced newcomers. With more than 300.000 visitors per year 'Kröller-Müller Museum' belongs tot he best visited museums of The Netherlands. Also internationally the collection attracts lots of visitors. Master works on loan reach world wide millions of people.
For more information, opening hours and entry fees look at http://krollermuller.nl/visit
Museonder/Visitor Centre
'Het Bezoekercentrum'is the ideal starting point for your day trip to 'Hoge Veluwe'.
We advise you to visit the Visitor Centre after arriving in the Park.The Visitor Centre is situated in the middle of the Park. Follow the signs 'Centrum'. You'll find these signs at every corner in the Park.
In walking routes and numbered routes signs saying 'Bezoekerscentrum' lead to he centre.
At the desk you can ask all your questions, also about the activities to be done in the Park, like a walk with a nature guide or an activity for kids. On the spot you can obtain tickets for a tour in 'Jachthuis Sint Hubertus for example, just like walking and cycle routes. Also should you like to do something by yourself, like making a walk or a cycle tour, you can get all information at the Visitor Centre.
For more information, opening hours and entry fees look at http://www.hogeveluwe.nl/en.
Dutch Watermuseum is an inter active museum about all aspects of water, situated in the old 15th Century 'Begijnmolen', sitting at 'Sint Jansbeek'in monumental park 'Sonsbeek'.
A typical do-museum where you can find out anything about dam maintaining, drinking water, ground water or water usage in The Netherlands and the rest of the world. A flash day out for the whole family! How many litres do you think you use every day?
Look for more information, opening hours and entry fees at http://watermuseum.nl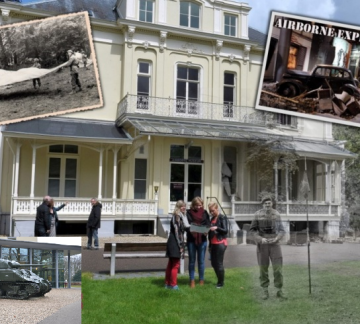 Get familiar with this unique museum and experience freedom is never to be taken for granted.
In 'Villa Hartenstein' stories from British, Polish and German soldiers come to life. The monumental building was British head quarters during The Battle of Arnhem. ( 1944) Also civillians play an important role here. Have a look at the collection of authentic weapons, documents and images but also the 'Airborne Experience'. All your senses will be activated: you'll imagine you'll be in the middle of this fight! In this underground space you'll experience in an impressive way the course of The Battle of Arnhem. An experience leaving many visitors speechless.
Look for more information, opening hours and entry fees at http://en.airbornemuseum.nl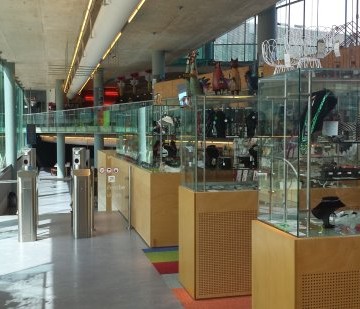 In 'CODA Museum' you can admire different exhibitions from both national and international artists and regional artists. With changing exhibitions in which jewelry and art from and on paper are the main thing, a visit to CODA Museum is very worthwhile.
Look for more information, opening hours and entry fees at http://coda-apeldoorn.nl/english/organization